Online marathons runner guide
Thank you for participating in the BSG online marathon! Streaming and running to an online BSG marathon is not any more difficult than streaming to your own channel, but there are a few key points that we'd like you to keep in mind.
Some small points about the run
Be on time. We'd like you to be available at least 30 minutes before the scheduled end of the run before yours (check the schedule often!) Do not disconnect your stream before the tech-person tells you to.
At the start of the run, the volunteer on tech will explain when and how the transition will happen. The host will introduce you after the transition happened. Additionally, the host will also have a final word before heading back to the intermission.
Enjoy. The goal of a marathon run is showing off the run. If something goes wrong, don't let it affect you in a way that could make you annoyed. It's all about the fun, charity, and showing it off to a crowd whom doesn't know anything about your speedgame!
Where to stream?
You will stream to a twitch account. This can be your own, but can also be an alt account. If there are any problems with this, please let us know at your earliest convenience!
Quality requirements
Minimum settings: 1280x720, 2500Kbps bitrate, 30fps
Desired settings: 1920x1080, 6000Kbps bitrate, 60fps
We require you to use a webcam for the marathon run. A Vtuber model does not meet our quality requirements.
We prefer having a 60fps 720p stream over a 30fps 1080p stream.
Experimenting is key. Feel free to ask in the discord with advice and help.
Layouts
After the runners have been made public, the layouts will be distributed to the runners that are based on the aspect ratio your game needs. All you have to do is put your game (cropped) in the larger area, and the webcam in the smaller area to the side. Feel free to overlap the darker sides of the layout with anything you'd like, since we will be covering it with our own layouts. Be sure that it doesn't overlap the game or your webcam.
If you are racing versus another player, communicate beforehand what side of the layouts you will use.
Otherwise, you can download the layouts at this link.
Commentary and audio
During your run, all stream audio will come from your stream. In the case of races, it will come from 1 of the racers. This includes your own voice, any commentators, the host and the game audio. There will be private discord voice channel just for you. The Tech-volunteer will do audio checks with you prior to your run to make sure everything is perfectly balanced.
In OBS Studio, the picture below is what we'd like the mixer to be about. Your voice and commentators touching the red (but not overdo it), and the game around the yellow. Half an hour before your run, the tech-person in question will work with you on balancing audio to make it sound the best it can be.
If your mic is turned up all the way, and it is still relatively quiet, you can rightclick on that slider, select "filter" and add a "gain filter" to amplify it by a bit. If your commentators are quiet, they should turn themselves up first before you do it.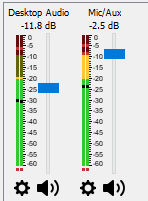 Notification and alerts
Make sure that there are no other audio sources that can interrupt your stream. We recommend making a new fresh Scene Collection, and only have the 3 relevant sources.

If your gaming device is internet-connected, please disable the internet or notifications about people coming online (steam notifications, switch/ps4 friend notifications). In addition, make sure that incoming skype/discord/emails are also muted.
We strongly encourage you to turn off your and BSG/ESA's chat during the run. This to maximize the focus on the speedrun.
Contact us
If you are ever in any need of help, or are unsure, please ask away in our discord! We are happy to help!
Last update: March 7th, 2021